Happy New Year! I hope that you're having a MARVELOUS start to 2012! I surely am! Here's a cake that the hubs and I made together and then my friend and I decorated it! Good teamwork!
The Cooking with Cricut Challenge this week is to use something "NEW". I think it's a perfect challenge for the new year! This was my first time using fondant (white base), frosting sheets (yellow and pink) the Cricut Cake Expression machine and the cartridge Cake Basics.
What a blast to make!
Look we dusted the top of the cake with sprinkles...
The center of the flower was the white fondant that we just rolled.
*Tips we figured out as we went along*
When using a 9in cake make sure to roll out the whole box of fondant (small box from Hobby lobby)
Use a pastry brush and water to take off any accidental frosting or discoloration of the fondant
Brush the top of the cake with water as well as the back of the frosting sheets for them to stick better
*Tip my friend taught me*
After putting the cake on the foil add wax paper around the bottom of the cake. Not completely under it just tucked a little bit under the bottom so that you don't get the foil all messy when frosting the cake (before adding the fondant).
What a fun project!
Good times,
I'm linking this up with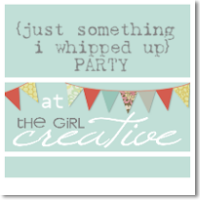 Top Tip Tuesday-Anything Goes